Hello and welcome to the house of great sleeps!
Beds Gold Coast - Sleepys Helensvale
Before you start looking through our website, we would like to answer one important question - what's the difference between a mattress expert and a mattress retailer?
The dictionary definition of the word "retailer" is "a merchant who sells goods in small quantities directly to consumers."
The dictionary definition fo the word "expert" is "a person with a high level of knowledge or skill."
At Beds Gold Coast - Sleepys Helensvale, our mattress experts are great people with years of experience who are dedicated to helping customers make the mattress buying process as easy as possible. Our factory-trained mattress experts help our customers through the process of finding the best technology to feel good about their shopping experience.
Types Of Beds and Mattresses We Sell
Chiropractic Collection

Gel Range

Lumbar Range

Posture Sleep Range

ComforPedic

Growing Dreams (Kids)

Pocketed Spring

Spine Align
Why choose Beds Gold Coast - Sleepys Helensvale?
We pride ourselves on ensuring our customers have a good night's sleep. Our staff are mattress experts and have extensive knowledge in beds and mattresses. Let us assist you in decided the best bed and mattress for your needs!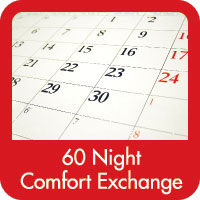 The Sleepys Difference
60 Night Comfort Exchange
Choosing a new mattress can be a challenging event. Away from the privacy and comfort of your own home you have to decide WHICH mattress is going to be right for you.
After you've spent time with one of Sleepys mattress experts and have told them your sleep preferences or problems and they have explained to you all they can about mattresses and correct sleep posture, we believe you'll be able to make an informed and correct choice.
Sometimes though, after you've spent a few nights trying your new mattress at home you might still not be 100% happy with the comfort or suitability of the mattress you selected.
No worries - because that's why we developed the Sleepys 60 day "Comfort Exchange" programme.
If after a minimum 14 nights you are unsatisfied with the comfort of your mattress we will exchange it for another mattress of equal or greater value. Conditions apply..
What other retailer do you know that gives you up to 60 days to make sure you've made the right choice?
Sleepys 60 day Comfort Exchange programme - one more reason why you'll have peaceful nights and rested mornings when you choose YOUR new mattress at Sleepys.
---
To request a free quote for Beds Gold Coast - Sleepys Helensvale please phone 07 5573 4577.
---